"The Tie, Re-Invented"
Invented in Alaska in 2010, GoTie is the brainchild of Army veteran and small-business owner, Adam Lucero, who set out to offer a new, high-quality solution to an age-old men's fashion problem:
How can all the benefits of a necktie be enjoyed without any of the hassles?
GoTie is the answer! It's The Tie, Reinvented™ . . .
GoTie is an adjustable necktie that employs patented slide-knot innovation to provide a perfectly "knotted" tie—every time. This amazing tie looks, feels, and wears exactly like a pricey standard necktie, but never needs to be knotted or unknotted; and it costs only a fraction of fine designer neckwear.
As a direct-to-consumer online retailer, GoTie, LLC is structured for the convenience and price considerations of its customers. In addition to offering GoTies in a wide variety of tasteful patterns and colors, GoTie, LLC also carries a signature collection of classic, all-cotton dress shirts that complement all GoTies and every wardrobe.
Currently, GoTie merchandise is only available online to the public. In order to make GoTies and its signature shirt collection available to customers around the world, GoTie, LLC is exploring commercial partnerships with various online and traditional retailers. As the company continues to grow, new GoTie patterns and clothing collections will be available for purchase.
In 2013, GoTie, LLC entered into an agreement with one of the world's largest gaming companies, to supply its employees with high-quality, hassle-free, durable neckwear.
As a privately held company that uses the latest in American tie design innovation, GoTie, LLC's products are produced with leading-edge textiles and have a money-back guarantee. GoTie, LLC is an equal opportunity enterprise, with a commitment to sustainability.
About Our Founder: Adam Lucero, CEO
A general refusal to quit and a determination to find better ways of doing things have always been two of Adam Lucero's defining qualities. Throw in the attitude of a tinker and the technical skills one might naturally expect of a Blackhawk helicopter pilot (Lucero is an Army officer with more than a decade of experience currently serving in the Alaska National Guard) and one has an idea of the tenacity of GoTie's founder and CEO.
An inventor and experimenter since he was growing up, Lucero already had several patents to his credit when he conceptualized the GoTie in 2010 during an hours-long drive between military duty stations. Suppose, Lucero speculated, someone invented a necktie that improved on the same design men have wrestled with for decades, without surrendering anything by way of quality?
Working on that simple premise, Lucero designed the very first GoTie prototype using cardboard and a pair of ordinary neckties. From these humble beginnings (and after casting aside dozens of unworkable preliminary designs over a two-year period) Lucero invented his patented, magnet-powered "slide-knot" that is at the heart of every GoTie.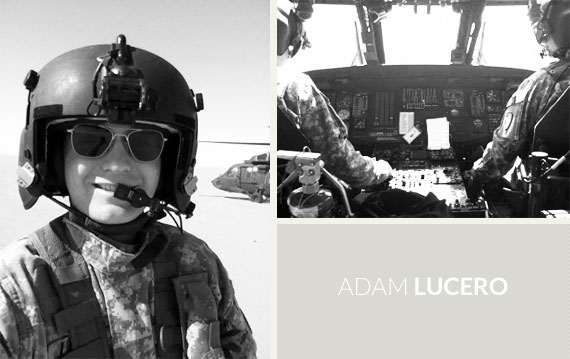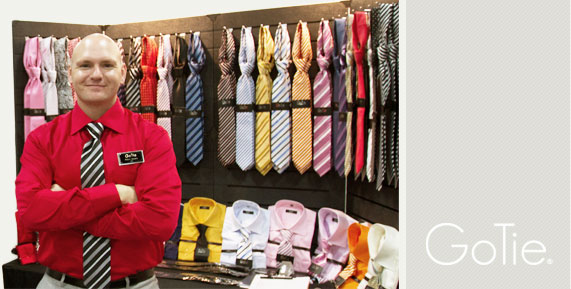 Using his own seed money to fund an initial collection of 25 different designs and colors, Lucero established GoTie as an online retailer in 2012. Offering his signature product, the GoTie, as the absolute equal of a traditional necktie in every way (yet designed to cut ten minutes off a wearer's dressing routine versus standard neckties), GoTie is already attracting a notable online presence.
Following two additional rounds of private funding, Lucero moved GoTie to the Las Vegas valley in 2013 in order to leverage the state's business-friendly climate. Under Lucero's personal direction, GoTie has expanded with a signature line of all-cotton dress shirts and is considering adding new GoTie designs and patterns in the future.
In order to maximize GoTie's growing reach while keeping costs to its customers low, Lucero continues to market GoTie's products direct via the company's Website, though partnerships with traditional, brick-and-mortar retailers are being considered.
A native of Colorado and a veteran of several overseas military deployments, Lucero currently resides in Las Vegas, overseeing GoTie's day-to-day operations.